Ok, a bit overdue, but I didn't want to just have Star Wars stuff cluttering the place up so I left it until there'd been enough variety so I could include this post. Earlier I covered the Imperial Knights and their function as well as those who'd fallen in battle. Now I'm going to cover the still living Knights and tell you what they've been up to, including adventures in recent issues of Legacy which I reviewed not too long ago...
Active Knights
Roan Fel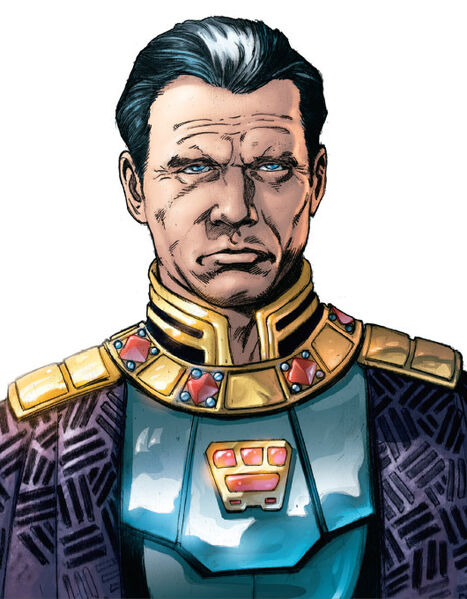 Species: Human
Sex: Male
Homeworld: Unknown
Position: Emperor (in exile)
First Appearance: Legacy # 3 (Broken, part 3)
The leader of the Empire is himself a fully trained Imperial Knight, equipped with a lightsaber and the power of the force. As Emperor he is therefore also leader of the order, though that position "officialy" resides with Antares Draco. Fel is absolutely dedicated to the Empire and has hated seeing what happened to it after the Sith took control. He is currently in hiding with the Knights and forces loyal to him. After seven years of hiding and fighting he retook the fortress of Bastion in an almost bloodless coup and has secured the world against Imperial attack. He refused to be tempted to give up his location, even when his daughter's life was at stake, feeling the Empire was more important than his feelings. When the location was found out he was still more than prepared and used his abilities and hidden weapons to take down a Sith assasin sent after him. Recently he has once again been in a position to discuss a treaty with the Galactic Alliance and since he has been made aware of the hidden temple of the Jedi the future hold many possibilities for the Emperor in hiding.
Marasiah Fel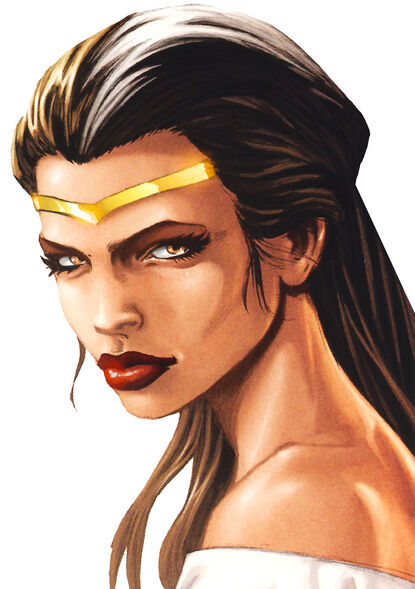 Species: Human
Sex: Female
Homeworld: Unknown
Position: Princess (in exile), Imperial Knight
First Appearance: Legacy #2 (Broken, part 2)
Marasiah (or Sia) Fel is the only child of Emperor Roan Fel. As well as his title she has also inherited his force powers and as well as performing state duties she has been trained as an Imperial Knight. When the Sith took over she acted as her father's agent, travelling the galaxy, seeking forces loyal to the true Emperor and continuing her training under Elke Vetter. When she was attacked she sought refuge with Cade Skywalker, though she had no idea who he was. They ended up confronting the Sith and Sia fought to defend Cade, getting herself seriously injured by doing so, but Cade used his power to heal her. It was she that first saw that Jedi and Knights needed to work together, but unfortunately her proposal wasn't met at the time. Since that time she recovered and was trained and Knighted, having more than proven herself. While she is a junior Knight, being the princess puts her into a position of superiority among the Knights - she is currently in charge of a mission to find Cade, but they have found far more than that...
Antares Draco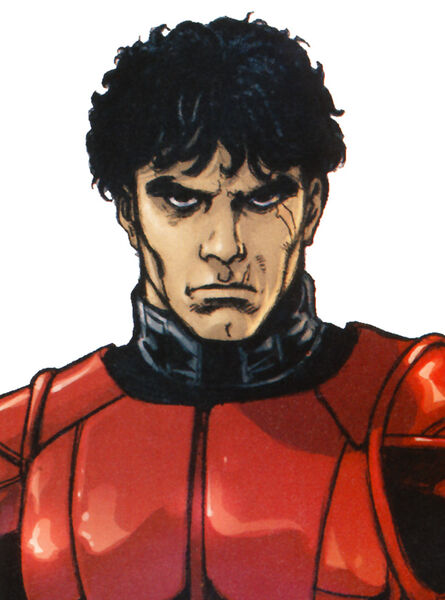 Species: Human
Sex: Male
Homeworld: Unknown
Position: Head of Imperial Knight Order
First Appearance: Legacy #3 (Broken, part 3)
Antares has been placed at the head of the Imperial Knights by his master Roan Fel. He is loyal to his master above all else and has little patience for members outside the order, such as Jedi. He is a strong leader, having only one weakness - his love for Sia Fel, which has a hold on his emotions greater than his loyalty to the Empire. He has always been close to the Emperor and helped him break free of Coruscant when Darth Krayt took the throne and stayed at his side after that, accompanying him to Bastion seven years later. However, his feeling led him to Vendaxa to try and rescue the princess, despite her father's explicit order not too. He battled against the Sith, slaying several of them, but was lucky to get the princess out alive. The Emperor was very displeased with him, though he gave him a medal publicly, and he stated that Draco would never marry his daughter. Sia, however, has other plans! Draco has still been entrusted with top missions, such as protecting Mingo Bovark, the Empire's envoy on the first attempt to negotiate an alliance, and is currently leading the mission to find Cade.
Treis Sinde
Species: Human
Sex: Male
Homeword: Unknown
Position: Master
First Appearance: Legacy #22 (The Wrath of the Dragon)
One of the most senior masters of the order, Sinde possesses a calmness and ability for reason that many other order members lack. While most Imperial Knights exhibit overconfidence and pride in themselves he presented a far more calm and collected demeanour. He had been dispatched to Dac to sabotage the new advanced Star Destroyer only to find it had been captured by the Galactic Alliance. As they tried to warn the Alliance Darth Krayt announced the genocide of the Mon Calamari people. Sinde carried on, rescuing Monia Gahan who had been instrumental in the capture of the Star Destroyer. She insisted that they rescue the stranded members of Rogue Squadron and he agreed, despite his companion's stubborn belief that they were still enemies. As they made their escape Sinde stayed behind to battle Darth Azard so as to allow time for the rest to escape. He got away once the shuttle was safe and has joined the Mon Calamari resistance while he remains on Dac.
Ganner Krieg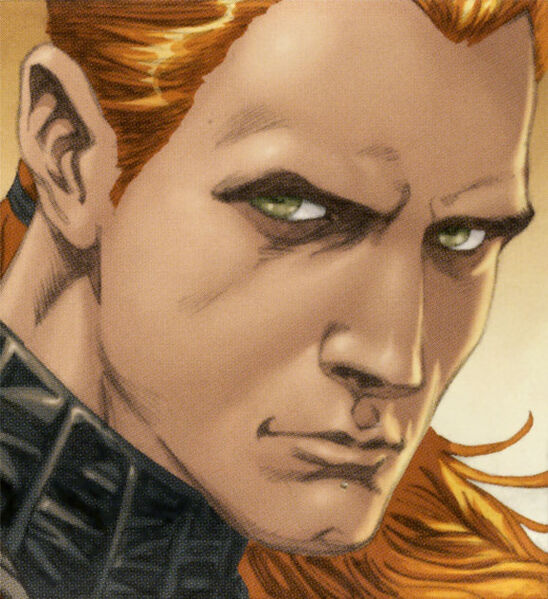 Species: Human
Sex: Male
Homeworld: Unknown
Position: Knight
First Appearance: Legacy #3 (Broken part 3)
Krieg is Antares' closest friend an accompanies him on most of his missions. Though not on Coruscant when the Sith attacked he found his way back to them and was in the Emperor's honour guard when they retook Bastion. He has been something of a voice of reason to his more passionate friend, but was still willing to accompany him despite the orders of the Emperor. He declared his disgust at the Sith on Vendaxa and proceeded to slay many of them, proving his skill in battle. He has since accompanied Draco and all of his key missions.
Sigel Dare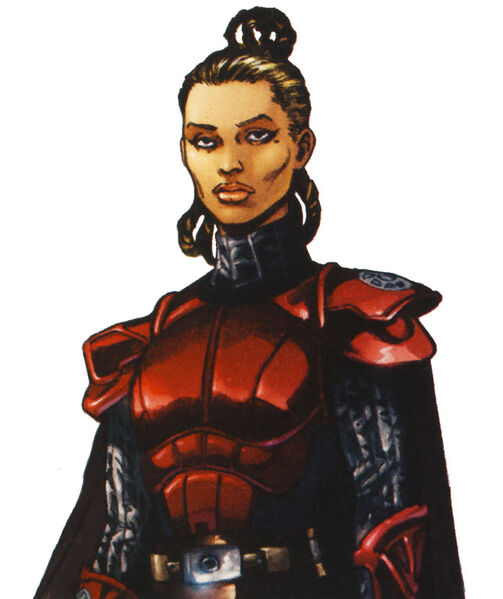 Species: Human
Sex: Female
Homeworld: Unknown
Position: Knight
First Appearance: Legacy #3 (Broken, part 3)
Perhaps the most introverted in her views Sigel is a senior Knight who was also in the Emperor's honour guard when he retook Bastion. She has great difficulty accepting the change in the galaxy and still sees the world in black and white with the Empire as the good and while she doesn't like the Sith, naturally, she still sees things as they were at the time of war, viewing the Galactic Alliance still as enemies and the Jedi as inferior. After arriving on Bastion she later was paired with Master dare to sabotage the Imperial starship on Dac. She had predjudiced view, believing that they should just leave their "enemies" to their own devices, but her Master pointed out the Fel himself wanted an alliance with these people and when he sacrificed himself to save them she saw past her own views and put her differences aside to present an offer of alliance to the GA.
Azlyn Rae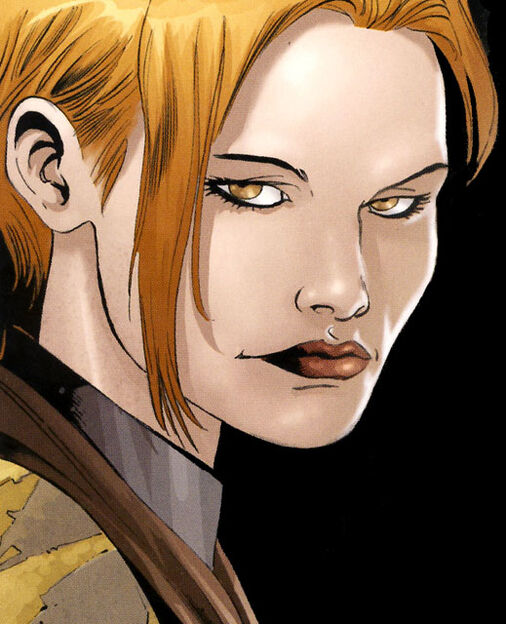 Species: Human
Sex: Female
Homeworld: Unknown
Position: Apprentice
First Appearance: Legacy #23 (Loyalties, part 1)
Azlyn Rae was trained as a Jedi and was an apprentice alongside Cade Skywalker at the Jedi Temple. She was apprenticed to Rasi Tuum, but became seperated during the attack on the Coruscant temple. She claimed to have found off jobs, including bounty hunting, which is probably true, though it may have been part of her cover. Somehow she wound up with the Imperial Knights and stayed with them to complete her training. She is loyal to them and undertook the mission to find Cade Skywalker for them obtaining or retaining a bounty hunter ship and outfit. She confronted Cade, but was surprised by Nat Skywalker and then revealed herself to him, but leaving part of the story out. She helped them evade Imperial inspection and earned their trust, but quickly reported back to the Knights that she had found Cade, and the Jedi Order too.
Well that's it, expect some updates soon.